As most people these days I found a lot of inspiration for our renovation online. When my parents started the renovation on their house in Scottsdale they used Houzz. This was the first I'd heard of it and it was definitely useful to help us get ideas. When looking through kitchen ideas I came across this photo.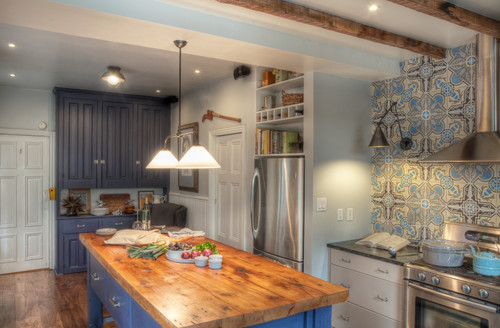 I immediately fell in love with the idea of a cookbook shelf over the fridge.
Because we did an Ikea kitchen we were limited in what we could do with premade cabinets. I looked through what ikea had available and nothing seemed like it would be appropriate for what we were after. My husband being a carpenter by trade was definitely capable of making something custom.
I began to plan (something I really like to do). Our fridge needed an 1 7/8" of space on either side and 2" above for air ciculation and to prevent it from over heating. We ended up with 1" either side which ,according to my husband, is sufficient for air circulations (just wait in a few years time I'll be writing a post about how our fridge overheated). That meant we needed a box that was 37 3/4" wide. I hadn't put too much thought into how high it should be an honestly I can't remember off the top of my head how tall we made it. What I do remember is once the box was made I realized it was WAY to tall and we needed a shelf in there (which is removeable). That is where the concept of a wine rack was born (the dividers are also removeable, made it easier on the painters). Another thing we did was add a false back to the shelf so it wasn't the full depth of the fridge. This meant things wouldn't get lost in the back of the shelf.
After it was constructed and installed we had it sprayed like the rest of the "custom" elements of our kitchen. In order to make our kitchen look non-ikea-esk we add custom valences and crown moulding.