After we moved I feel like I disappeared of the face of the earth. I think I had spent so much time and energy on the renovation and move that when it was all over I slipped into a lethargic coma.
I am realizing there is still a lot to be done so I can't continue to mop about.
The dining room light fixture was the first thing I bought for the house. I had seen a couple "pinteresting" pictures and knew exactly what I wanted. Black/oil rubbed bronze metal with clear glass (so you could see the light bulbs). I had told my mom about this and one day she was reading the paper and there was a full page ad from the
Carrington Lighting
store and smack dab in the middle of the page was the light fixture I wanted and….for super cheap. I ran over there and picked it up.
After I had purchased our dining room fixture the next step was the island pendents. I wanted to continue with the clear glass (so you could see the light bulbs). I began browsing the
Restoration Hardware
site and I found exactly what I had wanted oh and we could afford them!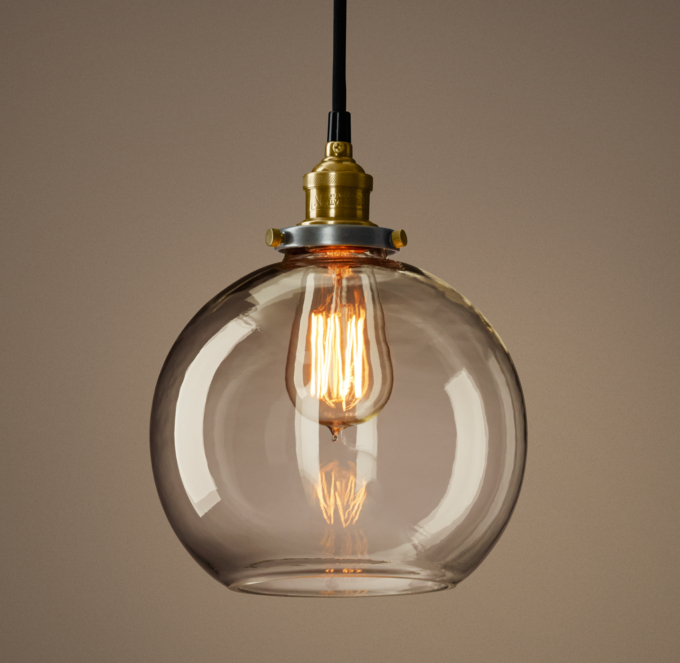 Our sconces and powder room light fixtures arrived last week. They were a little bit of an afterthought and that is why they just arrived. What was originally in the house was very much on theme with the right of the house…light purple and brass. Once the renovation was under way the style of our house really began to take shape we had a lot of square edges and crisp clean lines so I wanted something similar to that. However, I didn't want to go ultra-modern. And then I came across
George Kovacs
lighting! The scones were perfect!! And there was a two-light fixture that would be perfect for the powder room.